October 15, 2020: Las Vegas, NV
As always, my Heatshield came promptly and in perfect condition! We live in Vegas so every car must have this protection. This is the 5th cover I've purchased and each time I've called the company, I talked with such a courteous, professional person. What a pleasure to actually speak to another human! Every cover has fit each car PERFECTLY! I don't imagine there are many companies that can compete with this company! Just simply THE BEST!!! -Joe M.
---
March 2, 2020: Florida
The heat shield I ordered fits perfectly and I have noticed a lower temperature in my truck since switching from a different sun shield to the Heat Shield! -Ron C.
---
November 27, 2019: Prescott, AZ
This is my fifth purchase for five vehicles. What more can I say? It is a perfect fit, and it replaces the one I bought 13 years ago. The one I bought was still perfect, but I gave it to a friend to use, and it got lost on his trip. Every Heat Shield I have purchased has been a perfect fit, they are in use daily, and look nearly new. No planed obsolescence here. -Dwight D.
---
May 23, 2019: Tennessee
I have used the HeatShield sun shield for years in different vehicles as I prefer the custom fit as HeatShield offers and in my opinion they are the best. Recently I purchased a new 2019 GMC Sierra (new body style) and I wanted a perfect fit - HeatShield delivered! It covers the windshield as an exact fit. I am well pleased with the product quality and highly recommend to avoid interior damage from the heat of the sun. -John H.
---
March 28, 2019: Georgia
After ordering my first HeatShield Sunshades heat deflector several years ago, I was totally captured as a customer. It gets INTENSELY hot here in South Georgia and there is not a department store heat deflector on the market that can come close to the effectiveness of the HeatShield. Also, the fit, finish, and overall quality of construction is absolutely top notch! I bought my current pickup truck new in 2012 and purchased a HeatShield Sunshade at that time. I just now ordered a new one to replace that one after 7 years of brutally hard hard hard, everyday use, multiple times per day. Do the math and try that kind of use with heat deflector you buy off the counter at the auto-parts store. No other run-of-the-mill store-bought heat deflector can come anywhere close to the HeatShield Sunshades. Expensive? …. yes, but worth every penny. However, when you consider how long the HeatShield Sunshade lasts and the damage-free protection (from sun/heat deterioration) it has afforded the dashboard of my vehicle over the past seven years, then the cost becomes an outright steal-of-a-deal. Look at it this way, if I wasn't outrageously impressed with HeatShield Sunshades, I wouldn't have purchased EIGHT in recent years for all my family's vehicles. Take my advice, if you love your vehicles like I love mine and want only the very best protection from the damaging effects of sun and ultra violet rays, then look no further than HeatShield Sunshades for the protection you need. Like me, you will be a returning customer again, again, and again. -Mitchell R.
---
July 30, 2018: Lincoln, CA
Many thanks to the Heatshield team for my custom sun shades for my 2006 Ford F-350 pickup. My truck works primarily as a tow vehicle so it sits a lot. I purchased a kit that treats all my windows, so fit is an important feature. My brother referred me to Heatshield which he has for his Toyota Tacoma. Great fit, light weight, excellent reflective properties and very fast shipping! Thanks for a great product! -Alex P.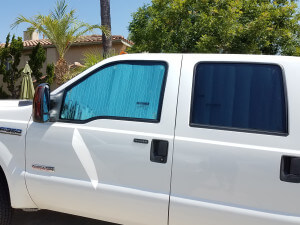 ---
May 31, 2018: Arizona
Hello to all of you folks at Heatshield. I'd like to report that all is great with the two sets (windshield & side windows x2) that I have purchased for my two 1970 Ford F250's. After I made you aware of the lack of a cutout for the rear view mirror, you prompty corrected the issue and sent me a corrected windshield Heatshield. Your customer service rates as a number 10 with me. Both of these trucks are under restoration and the Heatshield will greatly aid in the preservation of the interior components. Thank you for working with me. You have my full endorsement! -Rickman F.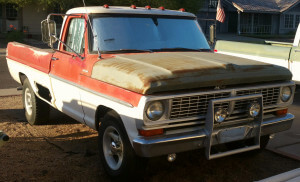 ---
April 13, 2018: USA
Here are some pics of my new Heatshield for my 2012 Chevy Volt. Thanks, and this is the best sun visor I've ever owned. It's a perfect fit! -Bo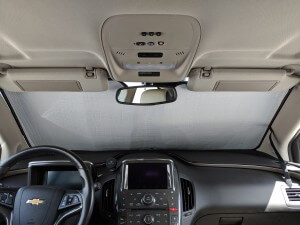 ---
July 2, 2017: Reno, NV
I received a shade for my Scion XD and it fits perfectly. I'm very impressed. I live in Reno, NV, so a good shade is needed. I've just ordered another one for my old 1992 Toyota Corolla. Thanks for the excellent product! -David P.
---
May 14, 2017: Canton, GA
This will be our fourth HeatShield we have ordered from your company and we love how they fit and last in our vehicles. In fact they outlast our leases! -Richard R.
---